Ear lobe repair
Individuals who wear heavy earrings might notice that the size of their ear piercing has progressively enlarged over time. Others may have accidentally torn their earlobe by catching their earring on an article of clothing. In cases such as these, Dr. Belton offers earlobe repair.
Earlobe repair is for anyone who may have experienced stretching of the earlobe due to heavy earrings/earlobe gauges or trauma. Dr. Michael Belton is an experienced, caring surgeon who can help you achieve beautiful facial symmetry. Dr. Belton is one of the leading surgeon s in the Inland Empire, specializing in various corrective ear procedures.
Your surgery will be unique to you and your particular case. Each earlobe will have to be examined at the time of the consultation to determine the proper technique to achieve the desired outcome. The extent of repair that is required will vary from patient to patient, which is why this procedure is so individualized. Earlobe repair can have a dramatic effect on a patient's facial symmetry and help to improve their self-confidence.
Reasons to Consider Earlobe Repair Surgery
There are a lot of reasons one may decide that earlobe repair surgery is the best option for them. The patient might be experiencing:
Torn earlobes – Earlobes can tear from wearing overly large or too-heavy earrings, or the piercing can be yanked after being caught on clothing, or it can be pulled by animals or small children. The damage won't heal on its own.

Stretched Earlobes – Certain piercings will stretch the earlobe. Gauged earlobes suffer from this. Larger gauge sizes create larger problems.

Saggy Earlobes – Skin loses volume with age. This can cause the earlobes to have a droopy or wrinkly appearance.

Large Earlobes – Earlobe reduction can help patients with congenitally large lobes.
Benefits of Earlobe Repair
Symmetrical Earlobes

Gauged ears can return their natural state

Ears can be re-pierced

Fast recovery
Ideal Candidates
Perfect candidates for earlobe repair surgery are healthy men and women who are dissatisfied with the appearance of their earlobes. They may have suffered physical trauma, or their ears may have been torn or stretched by earrings. The natural aging process can also change the earlobes' appearance, or the patient may simply wish that their ears were more symmetrical. The only way to repair these issues is through surgery. The procedure can be safely performed at any age.
What to Expect During the Consultation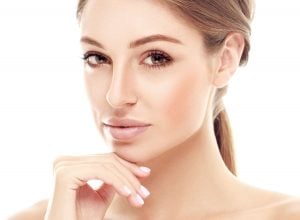 Your consultation with Dr. Belton will be your chance to express your concerns and ask any questions that you have. Whether you're suffering from an injury, a tear, or saggy earlobes, Dr. Belton will be able to tell you if you're a good candidate for this procedure. He will examine your ears and work with you to create a customized treatment plan that meets your exact needs.
Recovery
One of the great things about earlobe repair surgery is how little recovery time there is. The procedure is relatively painless, and the healing is quick. You won't need a lot of postoperative care and should be able to return to your normal life immediately. Dr. Belton will provide you with a customized recovery plan, so you know exactly what you need to do.
After your surgery, it's critical that you keep the suture site as clean as possible. Slight swelling is to be expected and will subside naturally. Over-the-counter pain medication can ease any discomfort.
If you had surgery on both earlobes, try to sleep on your back while recovering to avoid putting pressure on either of the earlobes during the initial healing period. You can start wearing clip-on earrings around two weeks after the surgery and can re-pierce your ears in 3 months. You can wash your hair immediately but make sure to be extra careful.
If you've never had your ear pierced, or the hole has closed, you should wait at least six months after your surgery before getting a piercing. You should avoid heavy earrings to ensure that your results are maintained. During this time, if you have any questions or concerns, please contact our office and speak with one of our friendly and helpful members of staff.
To learn more about earlobe repair or the other cosmetic procedures that Dr. Belton offers, please contact our office and schedule a consultation today!